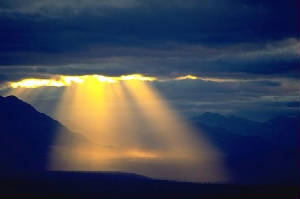 "This is the message we have heard from him and proclaim to you, that God is light, and in him is no darkness at all. If we say we have fellowship with him while we walk in darkness, we lie and do not practice the truth. But if we walk in the light, as he is in the light, we have fellowship with one another, and the blood of Jesus his Son cleanses us from all sin. If we say we have no sin, we deceive ourselves, and the truth is not in us. If we confess our sins, he is faithful and just to forgive us our sins and to cleanse us from all unrighteousness. If we say we have not sinned, we make him a liar, and his word is not in us."
(1 John 1:5-10 ESV)
Many of our parents gave us curfews growing up, possibly much to our chagrin. Dangerous things happened at night, right? Car wrecks, drunkenness, and various other unnamed dangers and snares awaited around each corner. But how many of us took our parents seriously? What sort of truth is ingrained in the idea that one should only be out and about one's business in the light?
This leads us to this text from John, who offers us a simple yet pertinent message. Those who walk in darkness are not in the light. "Of course," you may be thinking, "Isn't that common sense?" Well, yes, this is common sense. But sin has a way of making us turn away from clear 'night and day' truth to turn to that way which seems best to us; into a place where, as Judges describes "each man does what is right in his own eyes."
Those things which are reprehensible and sinful tend to happen at night, in the dark, hidden from those around us. As the old saying goes, "Nothing good happens after midnight." But Christ, who John explains, "Is faithful and just to forgive us," frees us to walk in the light, for our sin no longer has a bearing on our righteous standing before God.
Today, I bring nothing more than a simple but powerful truth from John. Brothers and sisters, are you walking in the light? Are you seeking justice and equity in all your dealings? Are you seeking to live in absolute purity? Are you speaking truth? Are you consistently confessing sin and seeking to live in repentance? Live in the light so that God may be glorified, you may be sanctified, and the light of Christ may be shown to all the world!
Grace and Peace,
Burns