"And you became imitators of us and of the Lord, for you received the word in much affliction, with the joy of the Holy Spirit, so that you became an example to all the believers in Macedonia and in Achaia. For not only has the word of the Lord sounded forth from you in Macedonia and Achaia, but your faith in God has gone forth everywhere, so that we need not say anything. For they themselves report concerning us the kind of reception we had among you, and how you turned to God from idols to serve the living and true God, and to wait for his Son from heaven, whom he raised from the dead, Jesus who delivers us from the wrath to come."
(1 Thessalonians 1:6-10 ESV)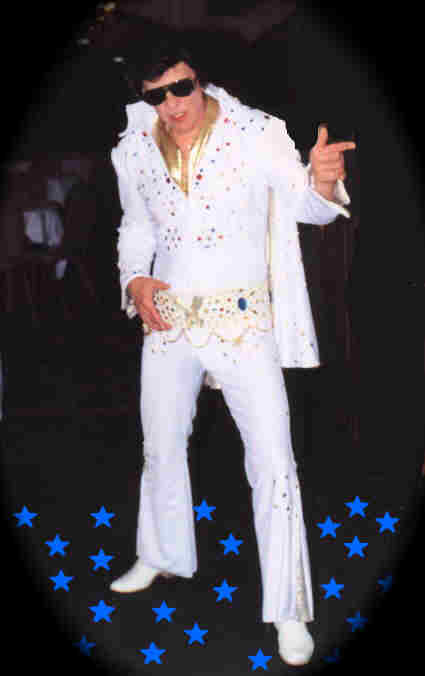 Ah, the Elvis impersonator. I am amazed so many people seek to impersonate this guy. He was distinctive and his music groundbreaking, certainly, but I am still surprised at the lengths guys will go to look and act like him. Those who impersonate him really well (assuming there's a set standard for Elvis impersonators, of course) can actually be hired out for parties and singing telegrams. What a way to make a living! Yes, I may or may not have searched on Google to find for-hire Elvis impersonators specifically for this post.
Impersonating a famous mid-20th century rock and roll star for bar gigs and birthday parties seems mostly harmless. But our seemingly innate need to impersonate can often take a more chilling turn. For example, observe the late comedians Chris Farley and John Belushi. Belushi, who died from a drug overdose at age 33, was Farley's idol. Farley, who lived to see heights of fame comparable, if not exceeding, those of Belushi, likewise died from a drug overdose at the young age of 33. In fact, both died of an overdose from the same drug combination - cocaine and morphine.
Humanity has a knack for impersonation. We will often act much like those whom we most admire. Unfortunately those whom we most admire are often those whose example we best not follow, lest we imperil our well-being. Our sinful nature leads us to follow those who would give us leave to indulge our baser desires and to give in to temptation; however, imitation is not always a harmful thing, as Paul will show us.
In this passage, Paul gives us a redeemed model of this practice in his description of the Thessalonians. Prior to this passage, Paul describes how the Gospel message was affirmed through the Spirit-enabled power of their preaching. He further bolsters this confirmation of the election of the Thessalonians by observing their imitation of him and the Lord Jesus. In what way did they imitate them? They "received the word in much affliction, with the joy of the Holy Spirit."
Is there a godly man or woman in your life who has received the word while in much affliction yet with the joy of the Holy Spirit? This person can take many shapes - an elderly man who has experienced the pains and trials of cancer, the young wife who suffers from seemingly inexplicable infertility, or perhaps a godly father you know who recently lost his job because he refused to compromise his integrity. Insofar as those people faithfully follow Christ, they should be imitated. Are you following the example of the Thessalonians and imitating those who have faced trials and afflictions while still seeking to believe the truth of God's Word?
In doing so, like the Thessalonians, whose faithfulness was an example even to believers in other cities, we are building the kingdom up by becoming faithful believers whom others can likewise impersonate. All this accomplishes the mission of the church - to make disciples.
So, brothers and sisters, seek out godly men and women who have faced trials and afflictions in the joy of the Spirit so that the Great Commission will be fulfilled!
Grace and Peace,
Burns